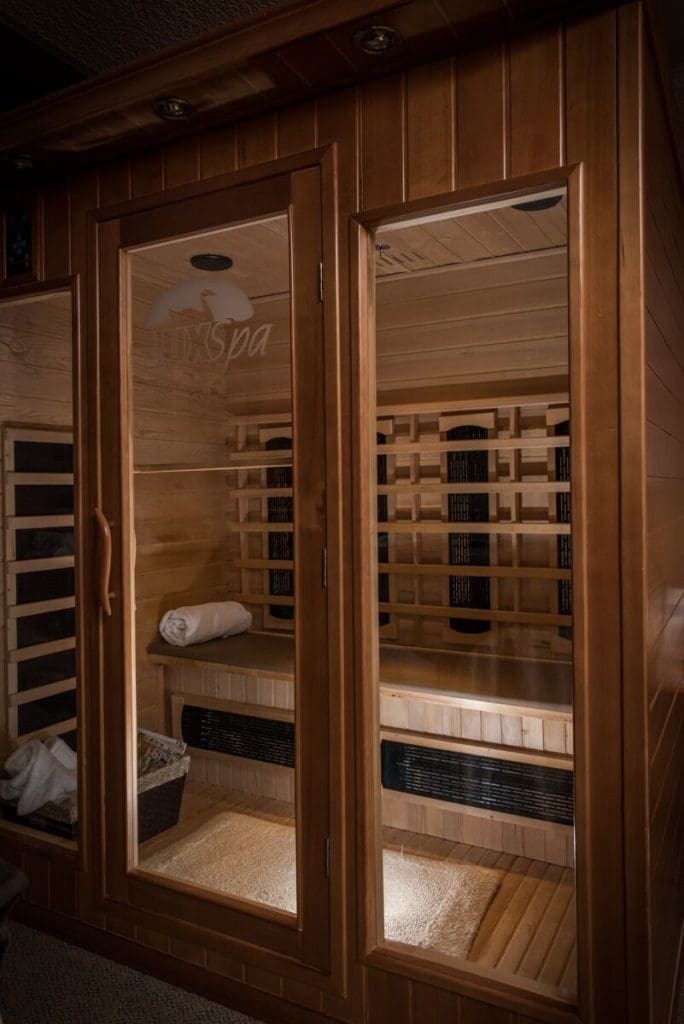 Private dry sauna (clothes optional) that may help to detox the body, increase metabolism while increasing circulation, speed up tissue and wound healing, relieves deep tissue and joint pain while relaxing muscles. Sauna maxes out at 140 degrees and is controlled by the client. Great therapy by itself or after a massage session.
This is a great service by itself or after any of our other wellness sessions. The Infrared Sauna may help with: 
Detoxification 
Relieves oxidative stress
Improves cardiovascular health 
Increase metabolism 
Sweat (great for the body) 
Reduces malignant cancer cells 
Eases joint + muscle stiffness 
Lowers blood pressure 
Promotes weight loss. 
When booking online, if you are unable to find a time, please call the spa directly so we may assist you.
30 min add on to any service

$25

The Body Spa + Cryo Trifecta (2hrs)

$125

This package is the ultimate in total wellness recovery and luxury. Start by choosing either a whole body cryotherapy or a red light therapy session followed by a one hour custom tailored massaged session. You can then finish you day with a 30 minute Infrared Sauna session. Afterwards you can go home and let you body process the amazing sensations and benefits it just received. Call to book this package. Total package lasts about 2 hours.
*Ask about our package deals and other discounts at your appointment.*
If you would like to book more than one service, please call the spa at 605-391-1678