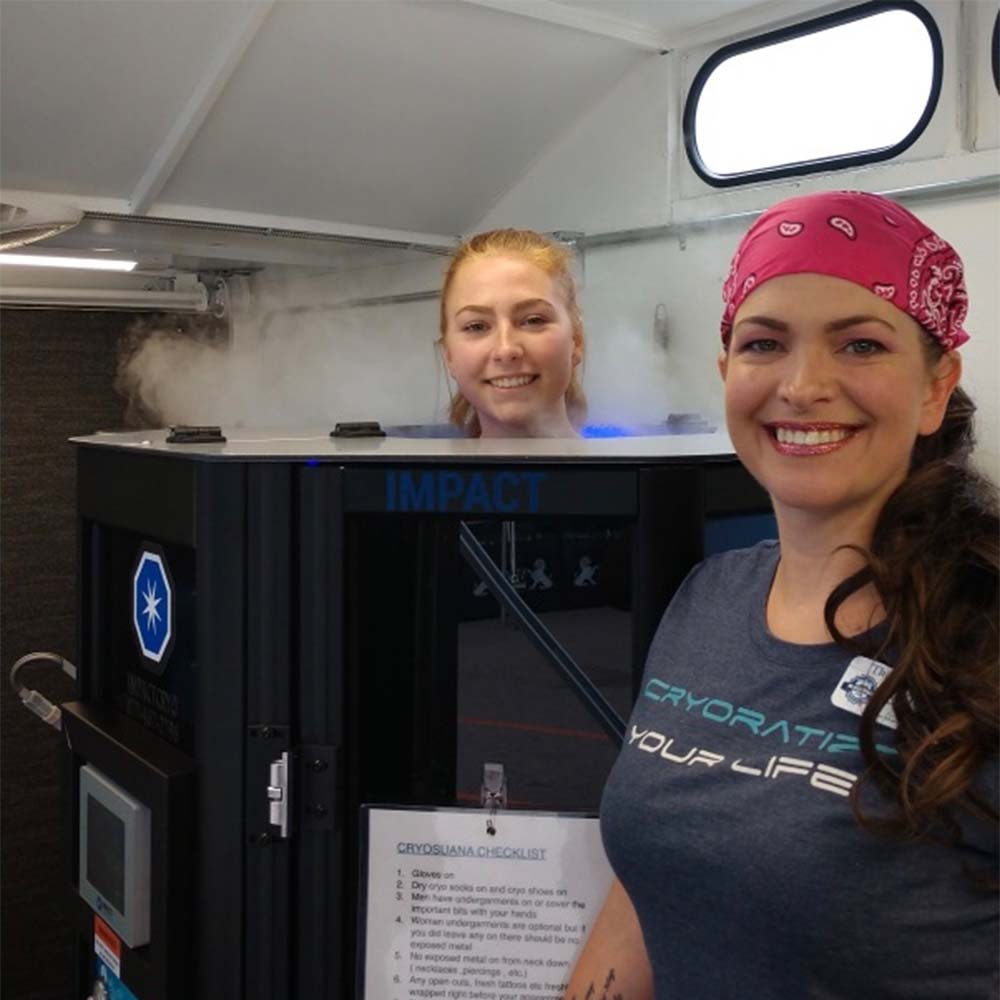 Cryotherapy is a full body rejuvenation that uses dry, cold air therapy in a safe three min spa treatment to activate the bodies organic healing process and reduces inflammation. Experience the benefits to fitness, health, wellness, skin and beauty- long after leaving the cryosauna. Cryotherapy is received fully undressed but you may bring tight fitting underclothes or gym wear to wear during your session. Do not apply oil or lotion directly before your session, skin must be completely dry. Heart conditions (including stroke or heart attack within one year), allergy to cold or severe sensitivity to cold, uncontrolled high blood pressure are contraindicated. Ask about packages available at check out. See our Q+A page for more answers to your questions. 
Full body cryotherapy options
Cryotherapy Consultation

FREE

Curious about cryotherapy but want to check it out first before committing to a appointment? We are happy to do a free consult and you can ask all the questions you have to our cryo expert and see the cryosauna first.

Full Body Single Cryotherapy Session

$50

Get ready to immerse yourself in the power of healing in our cryotherapy tank. Individual sessions last 30 seconds - 3 minutes depending on client. Plan on 10-15 min from start to finish of appointment your first session 5-10 min any following session. Sessions may help chronic inflammation and inflammatory diseases , perfect for post operation healing, post injury healing, muscle recovery, chronic pain, energy and libido boost, insomnia issues, boosts immune system, may help with skin conditions, depression, vitality, and metabolism/weight loss, tightens and tones the skin reducing cellulite and wrinkles. This is not a medical device or treatment and we do not guarantee any of the above results.

Full Body BUDDY Cryotherapy Session

$80

Bring a buddy and get a discount for 2 appointments. Book appointment under one name. Please arrive together.

Discounted Group Cryotherapy Sessions (group rate)

$45 (3-5 people) | $35 each (6+)

This is for groups of 3+ people who would like to come in together for cryotherapy. Each person will receive a individual session but everyone can experience the fun together, supporting each other, taking pictures etc. When booking book under the name of the individual organizing the group. Please call for groups larger than 6 to reserve time.
*Ask about our package deals and other discounts at your appointment.*
If you would like to book more than one service, please call the spa at 605-391-1678